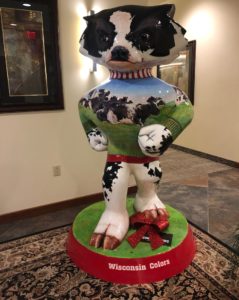 85 statues, 64 artists, #buckyonparade used 11,500 times and $1,000,000 raised for local charities.
We are excited to announce the new addition to the Rural Mutual Home Office. Welcome home, Wisconsin Colors!
Bucky on Parade
Over the span of 4 months, 85 life-size Bucky Badger statues were displayed throughout Madison and Dane County as a public art event. Local and regional artists transformed these statues into unique works of art which locals and tourists enjoyed spotting around the city. Following the art event, the statues were returned to their sponsors or auctioned off with event proceeds supporting Garding Against Cancer, Madison Area Sports Commission and other community charities. We are honored to be part of the $1,000,000 raised for these organizations.
Wisconsin Colors
We are excited to bring the Wisconsin Colors Bucky home to Rural Mutual to greet our employees and visitors. The statue brings the beauty of Wisconsin's Driftless area to life, complete with cows and markings in the shape of Wisconsin. A perfect art showcase for Wisconsin's #1 farm insurer.
About the Artist
Sue Medaris lives on a farm in the Driftless area of Southern Wisconsin with her family and raises a variety of animals which she draws inspiration for life and art. She is currently investigating historical changes in livestock rearing and rural life. With various printmaking techniques, the artwork explores breed genetics, feed consumption, our relationship with animals we use for consumption as well as those we care for in companionship. Sue's work can be seen at Artisan Gallery in Paoli, WI.
This is just another way we are keeping Wisconsin Strong! Learn more about how Rural Mutual supports local organizations and associations in Wisconsin.
---