A message from Jim Holte, President of the Rural Mutual Insurance Company Board of Directors and Wisconsin Farm Bureau Federation:
Throughout the years, I have seen quite a few elections. I won't admit to how many, but I will reminisce on the election between Jimmy Carter and Gerald Ford. I somehow knew it would be in history books for years to come. Gerald Ford narrowly beat Ronald Reagan for the Republican nomination but then became the only sitting president and vice president never elected to either position.
Once again, we are coming up to an election, but I'm sure you couldn't tell, could you? Advertisements back-to-back on TV, radio and the internet make it hard to forget.
I dislike the mud-slinging part of politics. I am a firm believer in when you don't have anything nice to say, don't say anything at all.
I've been on the ballot before when running for school board and I know firsthand what the pressure is like to put yourself out there for your peers to review. It's not easy.
I remember being thankful for the people who supported me whether I knew them personally or not. It's hard to gain trust with a large audience in the small amount of time in an election season. Heck, it's hard to gain trust anytime.
I want to remind you this election season that the people listed on the ballot are just that: people. They started in politics most-likely for the same reason I did: to make a difference in their community.
It's hard to see past a pointed campaign ad but do your best to remember there are two sides to every story. Research from a variety of sources can help you decide on the candidate who should earn your vote. Pick the candidate who is best for you and your family and use your voting voice.
If you want to vote for the best candidate for agriculture, consider the candidates that the Volunteers for Agriculture® Committee has selected for endorsements. These candidates have either been interviewed by farmers or have a track record of being supportive of farmers and rural communities.
The work you put in to elect officials is the first step in getting things done. If you believe that your current officials are doing a good job, reward them by voting for them. If you are displeased, find the candidate who might be a better fit. It might take a few minutes of research, but I can assure you that if you take the time to fully participate, you will be pleased that you did.
We have many local elections that are drawing national attention, along with three major elections on the ballot in November: Governor, U.S. Senate and Attorney General. The next group of leaders for our state depends on you.
To register or to find out if you are registered or what will be on your local ballot, visit myvote.wi.gov/en-US/. You are going to want to participate in this election because it could be one for the history books.
Much like Farm Bureau lets your voice be heard through our grassroots policy development process, our constitution gives us the power to elect our leaders. Take advantage of this opportunity and find the value in voting on November 6.
---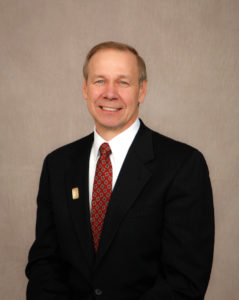 Jim Holte was elected president of the Wisconsin Farm Bureau Federation on December 2, 2012. He was elected to the WFBF Board of Directors in 1995. He represents District 9 which consists of Barron, Chippewa, Dunn, Pierce, Polk, Rusk, Sawyer and St. Croix county Farm Bureaus as well as the Superior Shores County Farm Bureau, made up of Ashland, Bayfield, Douglas and Iron counties.
Jim is the President of the Rural Mutual Insurance Company Board of Directors. He is a member of the Farm Bureau Life Board of Directors and was elected to the FBL Financial Group, Inc. Board of Directors in March of 2016. Jim serves on the American Farm Bureau Federation Board of Directors as a representative of the Midwest region and is a member of the Farm Bureau BanCorp Board of Directors.
Jim grows corn, soybeans and alfalfa on 460 acres of land south of Elk Mound in Dunn County. He also raises beef steers.