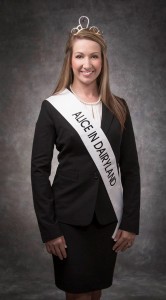 As Wisconsin's agriculture ambassador, Alice in Dairyland is a position that strives to educate audiences across Wisconsin about the part agriculture plays in our daily lives. We talked to Teyanna Loether, Wisconsin's 68th Alice in Dairyland.
What made you want to become Alice in Dairyland?
I have always looked up to Alice in Dairyland as a role model in my life. Even beginning in my early years showing swine, poultry, and horses at the Sauk County Fair, I always knew I wanted to be in a position where I was teaching others about the positive impacts Wisconsin agriculture makes on our daily lives. I feel the professional position of Alice in Dairyland allows me to achieve those dreams. Not only will I be able to teach and communicate what I am passionate about in agriculture, throughout the year I will learn many new and exciting things to share about the diversity of our $88.3 billion agriculture industry in Wisconsin.
Did you grow up on a farm? 
I grew up on a dairy farm in Sauk City, which my family owned and operated until I was 11 years old. From there, we diversified in our ventures and now raise beef cattle and market hogs, with the occasional flock of chickens. We've also worked in collaboration with a local vineyard and they manage ten acres of grapes on our land, so being involved in a unique aspect of Wisconsin agriculture taught me about the wide range of possibilities that our geography and climate has to offer for these industries. I continued to learn more about production animal agriculture while pursuing my Bachelor's degree in Animal Science at the University of Wisconsin-Madison; from poultry to swine to dairy and more, this education laid the foundation for my desire to discover new aspects of Wisconsin agriculture. I recently completed my Masters degree at the UW in Animal Science where I focused on how seasonal heat stress affects swine reproduction in Wisconsin. I was also granted the opportunity to serve as the graduate teaching assistant for the introductory Animal Science course in our department. Teaching 120 students from both rural and urban backgrounds solidified my desire to become an educator as the 68th Alice in Dairyland.
The Alice in Dairyland program has historical roots in Wisconsin. How long has this yearly reign taken place?
The Alice in Dairyland program began in 1948 to represent our dairy industry in Wisconsin, but as the years have passed the position has grown into a year-long, professional public relations opportunity. 67 incredible, professional women have come before me to lay the foundation as Wisconsin's official agriculture ambassador. Along with this growth, Alice in Dairyland has come to represent the entire agriculture industry in our state; from cranberries to ginseng, or even milk goats. Wisconsin is a leading producer in many areas of agriculture beyond our dairy industry.
What will the next year be like for you? What do you hope to accomplish?
Over the course of the next year I will travel roughly 40,000 miles educating both rural and urban audiences on all aspects of Wisconsin agriculture. Alice in Dairyland attends more than 400 events and visits more than 100 4th grade classrooms to teach about the nutrition of the locally produced foods they can find on their family's dinner table. During my year I hope to further connect the farmer's gate to consumer's plate and highlight the people, process, and passion behind what consumers see in stores or markets. There are many places consumers can find local products, including the Something Special from Wisconsin™ program. Each time you bring home something grown, processed, and produced right here within Wisconsin, you also bring home knowledge of the people and passion behind the nutritious and delicious meals. Keep an eye out for my Recipes from Alice in the future, where I will share recipes that everyone at home can make featuring local products!
Why is the dairy industry important to Wisconsin?
The dairy industry in Wisconsin is a huge part of our agricultural history and legacy, but it is also a huge economic driver today making a $43.4 billion impact within our state. Our cows and farms in Wisconsin produce over 27 billion pounds of milk each year. This impact of milk goes far beyond the farm and creates jobs within many aspects of the dairy processing industry. Wisconsin produces over 600 varieties, types, and styles of cheese. If we were considered our own country, Wisconsin would rank fourth in the world for cheese production!
What are people most surprised to learn about Wisconsin agriculture?
The diversity of Wisconsin agriculture is what is typically most surprising to people, and I'm continually learning of new products and markets within our industries. While we are America's Dairyland, the strength of our $88.3 billion industry lies in our diversity. Wisconsin ranks first in the nation for production of cranberries, ginseng, snap beans, milk goats, and mink pelts, just to name a few. This impact also goes far beyond our own borders into more than 150 countries through exports.
How can farms can keep visitors safe?
A large part of safety on a farm is education and communication with those visiting your farm. Take a look at your facilities and buildings from a visitor's perspective—are the gates and fences safely providing boundaries for people and animals? Is that hole in the gravel road that you pass by every day going to surprise a visitor? Identifying these potential hazards on your farm is the first step. Communicating how to resolve these with each of your family members prevents accidents from happening when visitors arrive. The Wisconsin Agricultural Tourism Association also encourages you to post Agri-Tourism Limited Liability signage at each entrance and surrounding your buildings. These signs serve to communicate to visitors about safety and liability on farms while they are on the tour. Facilities that are hosting agri-tourism events can visit http://www.luv-r-ag.com to find out more about ordering signs and becoming involved in this program.
What are most excited to do as Alice in Dairyland?
Everything! The position of Alice in Dairyland is a unique blend of communications, public outreach, and education. From June Dairy Month to the Wisconsin State Fair, to World Dairy Expo and 4th grade classroom visits with the Wisconsin Milk Marketing Board, I am able to meet the people behind our wonderful Wisconsin agriculture and help share their stories. I help to educate the public and consumers about Wisconsin agriculture and where their food comes from, but I am also able to be a student in certain cases and learn more about all facets of our diverse industry.
Where do you see yourself after your reign?
While in graduate school I certainly took an interest in agricultural education, and I see myself continuing this passion beyond my time as the 68th Alice in Dairyland. I'm a believer that the journey in life is what teaches us the most, and I'm sure this incredible year will provide many adventures for me to discover the path beyond. For now, I look forward to being your agriculture ambassador for the next year and sharing the story of our Wisconsin way of life, pride, and passion that stems from all facets of agriculture!