You might know Rural Mutual Insurance Company as the number one farm insurer in the state of Wisconsin, however, what you might not know is how active Rural Mutual has been in promoting safety and prevention. The goal of Rural Mutual's safety efforts is to help farmers and the next generation, avoid serious injury or even fatality.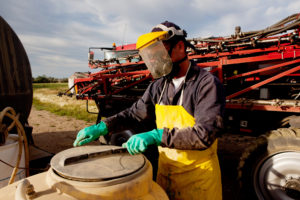 Over the past few years, Rural Mutual has placed an emphasis on farm safety, focusing on youth safety. Rural Mutual has partnered with the Monroe Emergency Response Inter-agency Training Center (MERIT Center) to develop and disseminate safety information.  Rural supplied the MERIT Center with a grain bin rescue device and has given the MERIT Center a platform to conduct several training sessions including lock out/tag out, rope and harness, grain bin extraction, gas monitoring and other safety training sessions at different events.
Another partner that Rural Mutual has been working with is the National Farm Medicine Center (NFMC), a Marshfield Clinic Research Institute that focuses on issues in agricultural, health and safety. Rural Mutual is in the process of helping the NFMC develop a safety monitoring system to alert farmers of potential hazards like injuries or property loss.
"It's great having all of this knowledge, but if you cannot get the message out, it doesn't do anyone any good," said Mike Lubahn, Director of Marketing for Rural Mutual.  "The majority of injuries we see, can be prevented. Our ultimate goal is to prevent injuries by educating parents and their young children."
By taking a pro-active stance on safety, Rural Mutual is focusing on educating the next generation. Educational training is being conducted by Rural Mutual's Marketing Relationship Manager Bill Kriese at elementary schools, high schools and community safety days all around the state. Ag educators have expressed a need for safety training sessions in their classrooms, and Rural Mutual is fulfilling that need. The training sessions include lockout/tag out, personal protection devices, ATV safety, PTO safety, grain bin safety and no riders on farm equipment not designed for passengers.  Farm safety sessions are free to the public to attend.
Rural Mutual Insurance Company does not want you to be another statistic.
To learn more about how to implement farm safety into daily activities , visit us at www.RuralMutual.com or contact Bill Kriese at bkriese@ruralmutual.com regarding safety material or to schedule a training session.