We believe there's something more important than just winning or losing a tournament. We believe that the team, school, and fans who support their athletes with dignity and class are the true champions. That's why we've proudly sponsored the WIAA/Rural Mutual Insurance Sportsmanship Award for more than 50 years.
We would like to congratulate Mount Horeb on being this year's recipient of the Girls Gymnastics Sportsmanship Award. Mount Horeb received the sportsmanship award in gymnastics for the second time and for the third time overall. The Vikings also earned the honor in gymnastics in 2015 and was recognized in boys soccer in 2012.
When talking with Head Coach, Martha Faust we asked her what this award meant to her as a coach, the team and community along with how they teach their athletes about sportsmanship.
"We are extremely proud and humbled to have received the Sportsmanship Award for Gymnastics from the WIAA and Rural Mutual Insurance."
Earning such an award is a fantastic way for our Mt. Horeb Gymnastics Program to finish a successful 2018-2019 season. Many hands pitched in to make this honor happen: our team and coaching staff, parents, families and our fans — their enthusiasm, hard work, support and love for this program and for the sport of gymnastics, definitely shined at Lincoln Field House in Wisconsin Rapids.

From day one of each season, I share my coaching philosophy with my team families which includes my belief that sports add to the total positive development of our youth. I strive to give my athletes rewarding experiences which not only develop gymnastics skills, but also the life skills of cooperation and teamwork; confidence, pride and belief in oneself and in her/his team; respect for herself/himself and others; and a sense of belonging to a team. As a Viking gymnast or manager, they can learn to overcome moments of disappointment along with celebrate moments of accomplishments.

Team huddles at meets and even at practices with talk about integrity, sportsmanship, being supportive of and encouraging to not just someone in a Mt. Horeb leotard but also to our opponents, are common scenes within our program. Our entire team knows the importance of not only 'talking the talk,' but also 'walking the walk'.

For decades, our high school gymnasts have shown a desire to help others and share the love for the sport of gymnastics through coaching the youth of Mt. Horeb through our village recreation department — a great example of paying it forward. I believe that this tradition continues to make a strong, positive impact on many children in our community. These young gymnasts look up to my gymnasts and managers and my hope is that they see from an early age how being a 'good sport' makes everyone feel a little better!
This is Coach Faust 26th season coaching high school gymnastics and her 22nd year as the Mount Horeb head coach. Prior to Mount Horeb she was an assistant coach at Eau Claire Memorial and the head coach at Madison West. Coach Faust's mom and dad were gymnastics coaches and she has loved the sport for as long as she can remember. What she finds most rewarding about coaching is seeing young women and men (generally she has some male managers on the team) achieve a personal goal they have set whether it be in the gym or in the classroom. She also loves seeing how being a part of their gymnastics family brings happiness to so many people in the community
In closing she wants to thank the WIAA and Rural Mutual for this amazing award.
Congratulation again on a great season and winning the WIAA/Rural Mutual Sportsmanship award. This is a great achievement for the Mount Horeb community.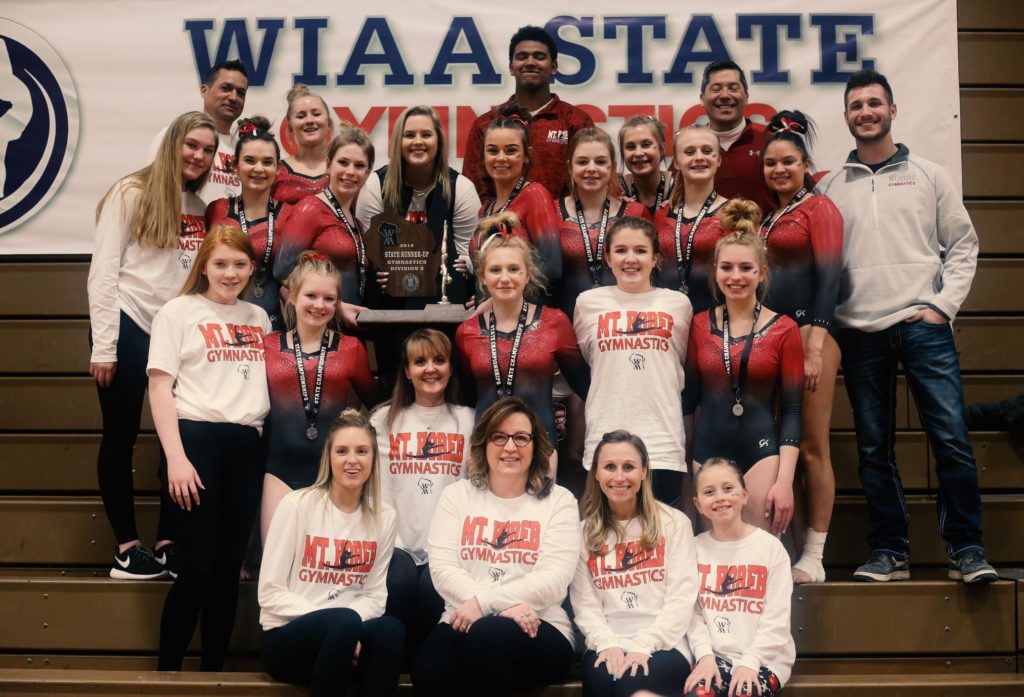 ---
Rural Mutual Insurance has been a sponsor of the WIAA Sportsmanship Award since it was started in 1965. The Sportsmanship Award recognizes the entire community for their conduct and appreciation for good sportsmanship – not just the athletes and coaches – but their fans and community and how they present themselves at state tournament events.