We believe there's something more important than just winning or losing a tournament. We believe that the team, school, and fans who support their athletes with dignity and class are the true champions. That's why we've proudly sponsored the WIAA/Rural Mutual Insurance Sportsmanship Award for more than 50 years.
We would like to congratulate New Glarus on being this year's recipient of the Boys Basketball Sportsmanship Award. It is the second time New Glarus has been chosen as the winner of the Sportsmanship Award. The Glarner Knights earned the honor with Belleville in a co-op arrangement in girls' soccer in 2016.
When talking with Head Coach, Travis Sysko we asked him what this award meant to him as a coach, the team and community along with how they teach their athletes about sportsmanship.
"One of the great things about the Sportsmanship Award is that it is a true community award."
Winning a state championship this year has been a remarkable experience that helped create memories for a lifetime. Finding out that New Glarus also won the WIAA/Rural Mutual Sportsmanship Award was the icing on the cake. Why? Because sportsmanship matters.

While we were able to perform at a high level on the court, we were also able to do it with class and dignity. It validates the effort from the players and coaches to do it the right way. For the first time this season, we decided to get rid of our team rules and instead focus on what our program values would be. As a leadership team, at the beginning the season we worked to develop our values. One of the values focused on respect, with the simple of message of "Be a Gentlemen." Often in practices or before games we would remind each other of our expectations about being a gentleman which meant to be respectful towards opposing players, coaches and officials.

One of the great things about the Sportsmanship Award is that it is a true community award. The community of New Glarus has been nothing short of amazing during this run. They have packed the gyms at home and on the road. They have been loud, and they have been proud. The community has backed our players, coaches and school throughout the season. When our players and coaches were asked about some of their favorite memories from the week of state, many answers focused on the fans and the support they provided all week. New Glarus provided a perfect example of how great it is to grow up in a small town.

While I'm fortunate enough to coach the high school basketball team, I'm also lucky enough to teach in the elementary school. We spend a lot of time working with our students, elementary through high school, on what it means to be a Knight. We focus on three areas: Be Respectful, Be Responsible and Be Safe. It's the Be Respectful focus that really carries over to our expectations for sportsmanship. Be a Knight is a message that I refer to often with my players and they all understand what it means because they have learned it throughout elementary and middle school. Be a Knight isn't just something we use to teach our younger students to behave or to teach our high school students to be a good sport. We are teaching them how to be good people who are going to continue being good people long after they have left the halls of New Glarus School District.
Coach Sysko has been teaching and coaching for the past 23 years and this was his 17th year at New Glarus. While he loves winning as much as anyone, what he finds most rewarding about teaching and coaching is the relationships that he's been able to build with his students, players and families. It's his hope that he can have a positive impact on the young people in New Glarus because he's grateful for the impact they have on him.
Congratulation again on a great season and winning the WIAA/Rural Mutual Sportsmanship Award. This is a great achievement for the New Glarus community.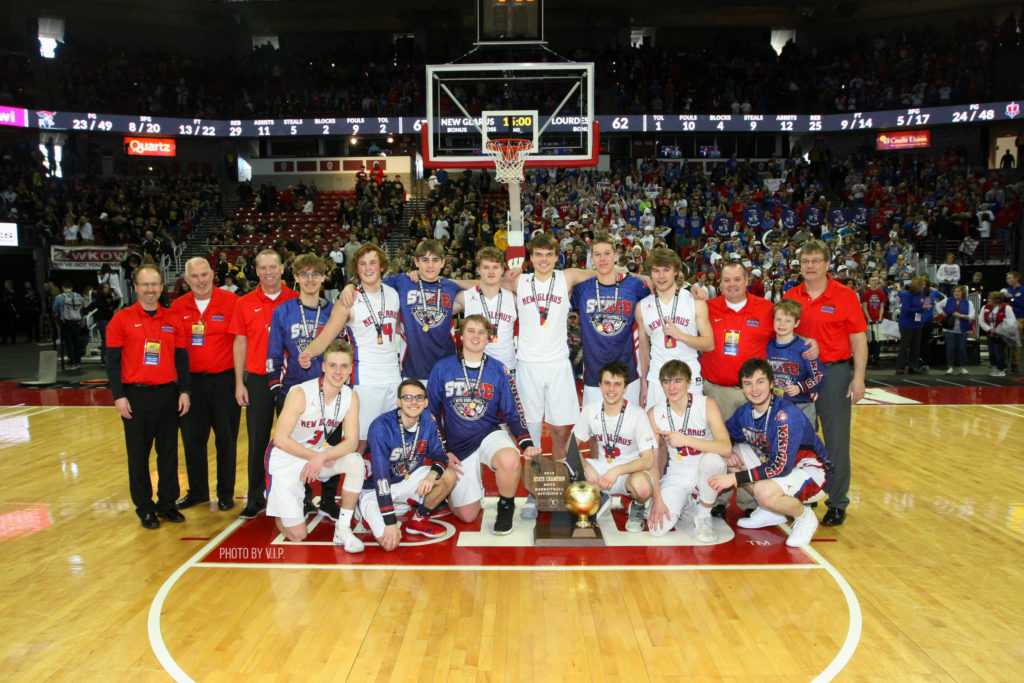 ---
Rural Mutual Insurance has been a sponsor of the WIAA Sportsmanship Award since it was started in 1965. The Sportsmanship Award recognizes the entire community for their conduct and appreciation for good sportsmanship – not just the athletes and coaches – but their fans and community and how they present themselves at state tournament events.