Highschool Basketball season is well on its way, and we are excited as proud sponsors of the WIAA!
Jon Berger, a local Rural Mutual Agent in Oshkosh, reflects on last year's Division 1 Boys Basketball State Tournament Championship. Jon has been coaching at Oshkosh North for over 20 years, starting in the youth program and now serving as Head JV Coach/Varsity Assistant since 2017.
"My favorite things about coaching are watching the kids grow and develop from youth all the way through high school. We truly get them from start to finish. It's worth it to see kids improve."
Jon also mentioned that the camaraderie among the Oshkosh community, coaching staff and active alumni makes his coaching experience all that more rewarding.
After a tough loss the previous year against Stevens Point, Jon said the returning players were ready to work harder and dig deeper in the off-season.   Oshkosh North went on to win a State Championship last season.
Jon is currently on his 23rd year of coaching this season and is both at the high school and the 8th grade youth level.
"I am looking forward to continuing the tradition and values that the Oshkosh North Basketball program and coaches have instilled and believe in.  We live by a simple acronym, EAT (Effort- Attitude-Toughness)!  It is what the foundation of our program is built on.

Is the state tourney a possibility again…yes!  Will it take work and dedication by all… yes!  We have started this year like we have every other year, working to be the best team we can by tourney time. If our best isn't good enough, then so be it. But the opponent will see our best!"
#SportsmanshipMatters
Rural Mutual Insurance has been a sponsor of the WIAA Sportsmanship Award since it was started in 1965.
"I'm proud to work for a company like Rural Mutual who supports local high school sports. A company who makes positive contributions to their community is a sign of a true leader. It evokes a feeling that a company understands the impact and importance of sports on youth, not to mention instilling customer loyalty by strengthening the bond between our brand and community."
As a Rural agent, Berger said this is just another way he can contribute and give back to the Oshkosh community. "It's all about the relationships that we build and coaching along with being a Rural Mutual agent has helped me develop some great relationships that will last a lifetime. "
Berger said being both an agent and a coach is very similar.
"You are constantly looking to help members of your community and coaching them on their needs in the insurance world.  When you care about your team and your community, you have a desire to protect them from the unexpected"
Berger says they teach sportsmanship every day at Oshkosh North.  They talk about respecting opponents and respecting what they bring to the table at each game.
"We demonstrate respect by smiling, shaking hands and chatting with referees and opposition. Win with class and lose with class is one of our motto. Act like you have been there before, even if you haven't. There is as much to learn from a loss as there is to learn from win and I hope these lessons carry on into adulthood.
2018 State Tournament
Oshkosh North is in the Fox Valley Association Conference.  Coach Berger says it's one of the best and most competitive conferences in the state and every night brings a new challenge and a tough test.
When 2018 tournament time came, Oshkosh North received the #1 overall seed.
"The tourney brought key challenges right off the bat, an injury to one of our starters forcing him to be sidelined for the first two regional games. So, it was next man up and our team did a great job responding to that!"
Just like that, Oshkosh North was on its way to the WIAA State Tournament with a 57-42 victory over last year's rival, Stevens Point. This was Oshkosh North's seventh state appearance and Berger's fourth as a coach.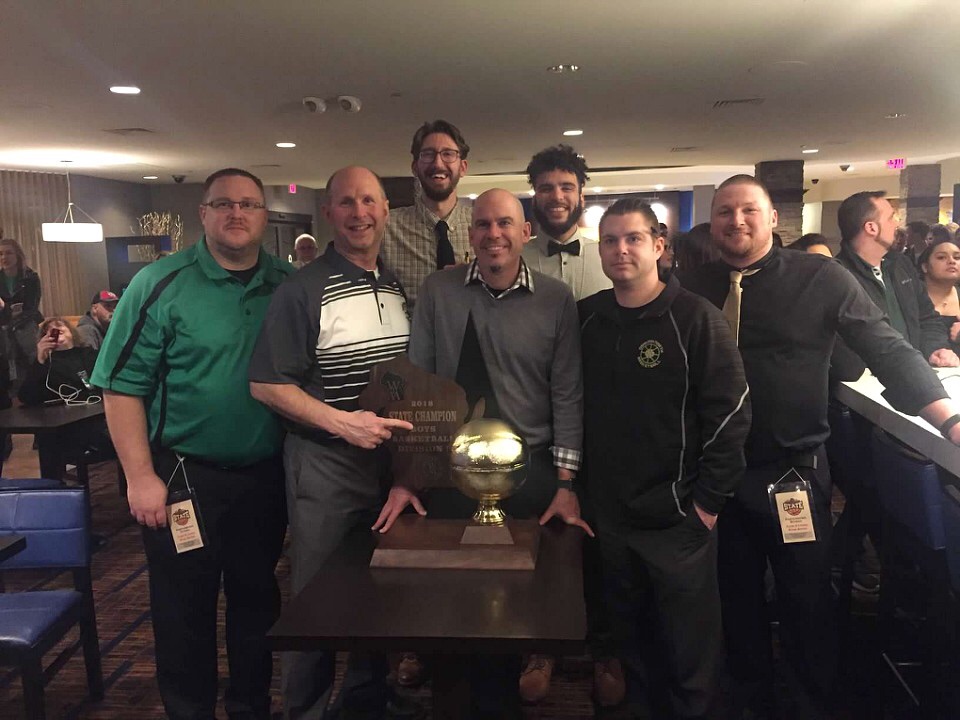 "We were the final game on Saturday night.  Brookfield East came out hot and running.  We were a little tight.  You could see the nervousness of playing in the big game were present with our guys.  Brookfield East stayed close to us most of the first half.  We were executing our game plan.  Our defense was slowing them down and causing them fits.  After a last second 3 to end the first half, we had held a 26-20 lead.  Our halftime talk was all about not letting off the gas, not relaxing, and not having a repeat of the night before!  Our guys were focused and ready.  They came to play the second half and extended our lead out 11 points.  Brookfield East would never come closer than 8 points in the second half.  As the game wound down, we could sense that we were going to achieve our goal.  When the buzzer sounded, we had done it, a 61-44 win and the first State Championship for the Oshkosh North Spartans. The feeling was amazing!  Watching the joy and happiness by everyone was incredible, our ball boys, players, coaches and fans.  I watched as our families made their way down closer to the floor as the game ended, just pure joy, excitement, and happiness was seen and felt by all!  We had done it! We had achieved our goal…. State Champs!!

I have two favorite parts of the State Tourney.  First and foremost, being able to enjoy it with my boys!  My son Matthew, is a sophomore on the team #30 (my high school player number). Having the best seat in the house to watch him enjoy that moment is more than words can express. He works hard, and is so self-motivated that being able to see him contribute to a State Championship team is amazing.  Alongside my other son, Mason, who is a ball boy for the team. He is as much a part of that team as the players who enjoy calling him "Meatball".  Seeing and feeling the pure excitement and happiness of both boys is incredible as a father!

Secondly, is being part of a team effort to be able to bring home a State Title to our Oshkosh North community. This State Title is the first one in school history-it is an incredible honor to be part of that.   It is for all the players, coaches, and youth players that have come before us.  A successful program is only as good as its founders and mentors. We are rich in knowledge and tradition due to a great succession plan.

The community/fans/parents have been an incredible support system for our team.  They have been there through the tough losses and the highest of wins.  Coming back to the hotel where the parents stayed after our win was tremendous! Seeing the outpour of energy and delight from family, friends and fans was awesome!  There is such pride in being able to produce this Championship Title for them. Our community impressed us again during our welcome home reception. After a short procession through town, riding with our team and coaches on top of an antique fire truck, we turned the corner onto Smith Street (where the high school is located). The sights and sounds from the sea of fans, parents and community members lining the street as was a feeling and emotion I will never forget. The support for the players and coaches was much appreciated. "
So much to be thankful for
There are many people Berger would like to thank.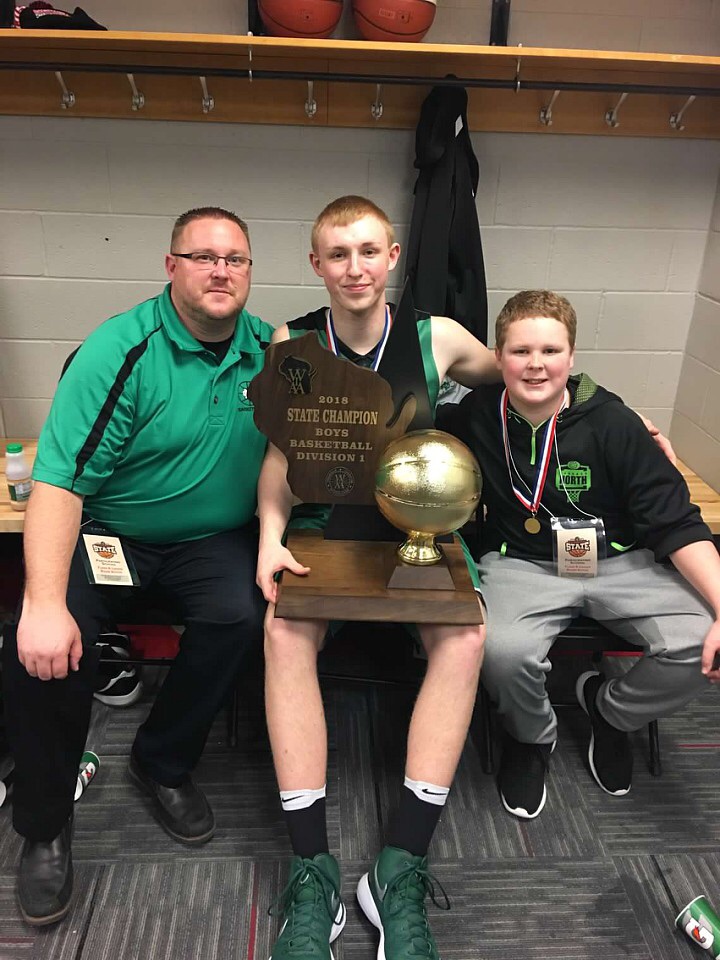 "First and foremost, my wife Tracy, she puts up with crazy long days, crabby husband/coach at times, along with being a single parent for most of the season.  The season is 5 months long, but it really goes about 10 months long with all the open gyms, summer tourneys, and summer camps that we coach in, not to mention AAU.  I couldn't do the things I do without her love and support.

My parents, Dick and Judy Berger, who have always been a support. They offer help when needed with my other boys, they cheer us on and travel near and far. It was both memorable and amazing to have them as a part of las year's journey.

The Oshkosh parents/community that have supported us along the way.  They give their kids/players the support they need to accomplish the goals that they have set for themselves and the team. I enjoy our community.

The Oshkosh North Coaching Staff both past and present, to name a few : Head Coach- Brad Weber (19 years in the program),  Jordan Schade (8 years in the program as a player and assistant coach), John Cameron (over 30 years in the program), Boston Johnson (5 years in the program as a player and assistant) , Alex Madden (10 years in the program as a player and assistant), and Jake Rennert (6 years in the program as a player and assistant) and retired coach Rick Leib (over 20 years in the program as an assistant) Coming to practice each day exchanging ideas and knowledge makes for an incredible experience with this crew.

Finally, Coach Frank Schade (WIAA Hall of Fame Coach and WIAA Hall of Fame Player) with 35 years building the Oshkosh North program. He gave me the chance to be part of this program when my journey began in 1987 as an Oshkosh North youth player and taught me lessons both on and off the court through my senior year of high school in 1996.  The knowledge that I acquired from him has made me a better coach than I was a player. I'm lucky and privileged to call him a friend and mentor.  Thank You!

Overall last season season wasn't just about this one season.  It was about the hard work and dedication to a program that many coaches and players (past and present) have put time into.  "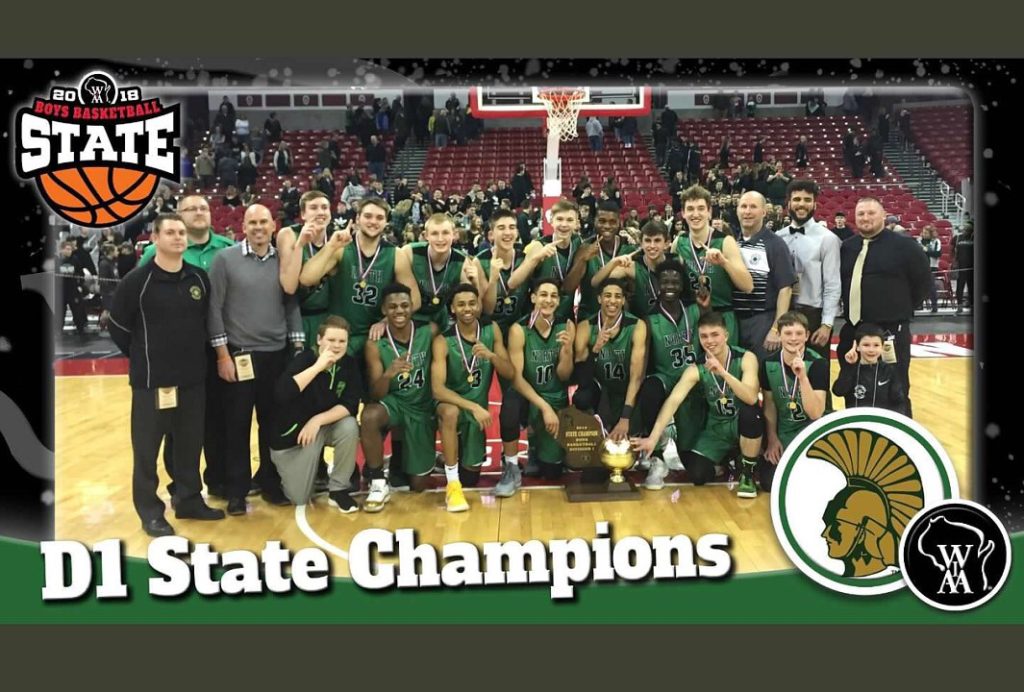 ---
Rural Mutual Insurance has been a sponsor of the WIAA Sportsmanship Award since it was started in 1965.
The Sportsmanship Award recognizes the entire community for their conduct and appreciation for good sportsmanship – not just the athletes and coaches – but their fans and community and how they present themselves at state tournament events.
Learn more about the award here.