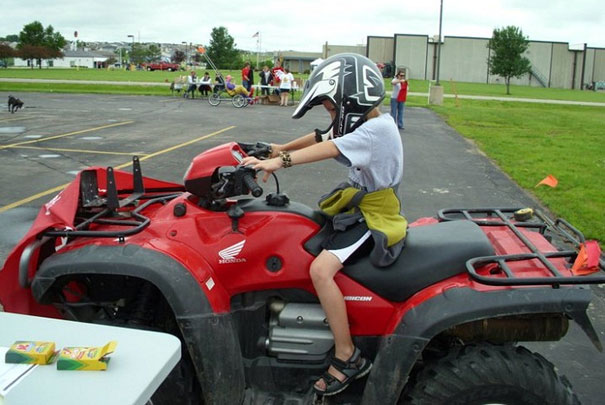 If you're like many Wisconsin farmers, an all-terrain vehicle is as commonplace on the farm as crops and livestock. Chances are your children love to use them, and why wouldn't they? An ATV is big, it's fun, and it's fast. But it's also a machine that requires responsibility, respect, and safety precautions.
If your children will be using your ATV for farm use, have you taken the time to make sure they are capable of safely operating it before sending them on their way? Measuring your child's ability to react quickly, assuring they're strong enough to operate the controls, and simply trusting their capabilities are just a few considerations.
It's tough to calculate the exact age a child is ready to operate an ATV for use on the farm, but there are ways to test whether it's a job your child is ready to take on.
Cultivate Safety has provided a list of questions to help determine the answer to one simple question: can your child do this job? Think about the children on your farm, and answer honestly.
Can the child reach and operate all controls while comfortable seated?
Is the child strong enough to operate the controls without straining?
Does the child have good peripheral vision?
Can the child use hands and feet at the same time?
Can the child understand and repeat from memory a 5-step process?
Can the child recognize a hazard and solve the problem without getting upset?
Can the child react quickly?
Do you trust the child to do what's expected without anyone checking?
Did you answer NO to any of those questions? Then it's time to really consider whether your child is ready to take on the ATV duties for the farm.
Give it time, give it some training, and give your child a chance to grow into the responsibility. One thing better than having your child's helping hand on the farm is having it done safely.
Photo courtesy of Ag Future of America