By Chris Schlechta, Rural Mutual Safety and Loss Control Manager
Spring time is finally at our door step!  Along with the warmer weather and longer days however comes the threat of severe weather.  Every year wind, hail, tornadoes, lightning, and flooding cause millions of dollars in damage, injuries, and fatalities.
In 2016, Hazardous weather in Wisconsin caused 20 fatalities, 33 injuries and resulted in nearly $38 million in damages.
Being prepared for the inevitable severe weather we will experience will ensure you are safe and better able to overcome whatever Mother Nature throws your way. Part of that preparedness is being informed and aware of changing conditions that may develop in severe weather.
Tornado – American Red Cross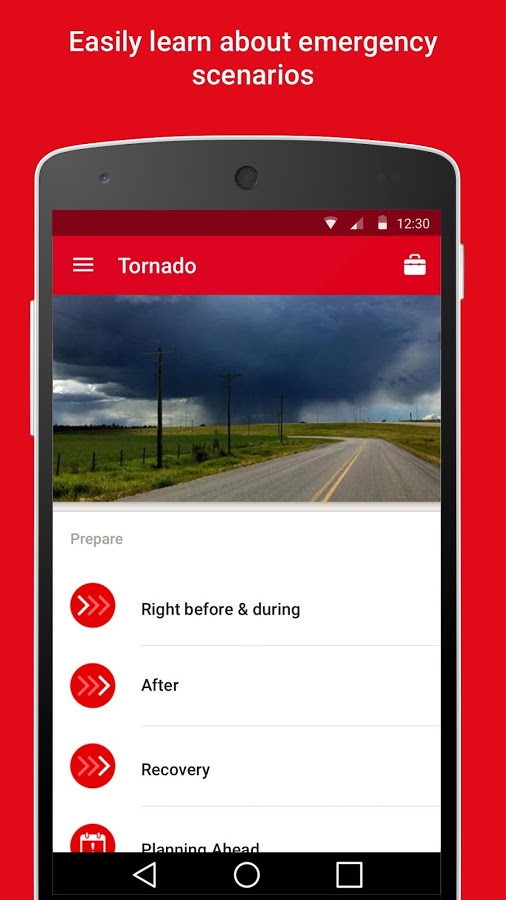 Today, through technology we are better equipped to anticipate incoming weather and the severity. While great tools are available, they should never replace common sense to expect the unexpected. One tool I recommend is the phone app, 'Tornado–American Red Cross.'
This free phone app available for both Android and iPhone platforms, has saved me from driving into an EF-1 tornado crossing the highway a few miles ahead of me.
The app allows you to put in multiple locations to monitor for home, work, school, etc. It also can deliver alerts based on your global positioning system location.
In addition to the severe weather monitoring, it also is a great source of preparedness information. Information in the app can be delivered in English or Spanish.
RadarScope
Another app I find useful is called 'RadarScope.' This is an advanced level paid app (starting at $9.99) that provides advanced features sets on wind speeds, storm intensities, lightning, hail, storm paths and more. You also can pay to upgrade the data feed from NOAA to Allison House, which provides the same level of data used by professional storm chasers.
NOAA Weather Radio
It's important to note that every home and business should have a NOAA Weather Radio. This is an invaluable tool to know what is going on with weather expected in your area.
I caution people that rely on the outdoor warning sirens. These sirens were never intended to warn people inside a building and are really a last resort warning to those outside. Even then, you may not hear the sirens based on the winds or your distance from the sirens.
There also have been cases where the severe weather has impacted an area before the sirens were activated. Don't bet your life on them.
Make sure you are ready for Mother Nature this year. Stay aware of the weather conditions and make sure you have a preparedness plan for home and work.
For related articles, visit our learning center.