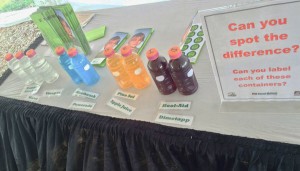 It's true what they say: you haven't experienced summer in Wisconsin until you've had breakfast on a farm. Here's one farm using their large turnout each year to educate visitors about chemical farm safety for kids and parents alike.
From the tip-top of Sawyer County to the Wisconsin-Illinois border, hundreds of Wisconsin farms held their annual breakfasts in recent weeks to celebrate June Dairy Month. Thousands of people arrived to eat ham and cheese omelets, watch live music, and have their faces painted.
But some farms took it a step further and staged farm safety demonstrations. K&T Dairy LLC took advantage of the nearly 8,000 people in attendance at the Outagamie County Breakfast on June 12 to further education and awareness of chemical safety on the farm.
These demos were not only geared toward children, but parents too.
"It's a great time to give people a simple reminder that there are active dangers on a farm," said Kelly Oudenhoven, member of the Outagamie County Farm Bureau and FFA. "It's important for parents especially to understand a child's point of view and to be aware of what can happen."
This is especially true for chemical look-a-likes, she said. Demonstrators placed farm and household chemicals, such as rat poison and anti-freeze, next to edible look-a-likes, such as tic-tacs, for children to decipher the difference.
In most cases, they couldn't.
"It's a real eye-opener for parents," Kelly said.
According to Farm Safety For Just Kids, a non-profit dedicated to promoting a safe farm environment, poison control centers handle over 2 million calls each year, most of them being for children under six years of age. One child dies every three days due to a farm-related accident and over 35 children are harmed on a farm each day.
Parents, here are some helpful tips from Farm Safety For Just Kids about keeping your children safe from exposure to harmful chemicals, especially ones that look like regular, edible household products.
• Keep chemicals locked in their original and labeled containers (so kids don't confuse them for something else)
• Educate kids to stay away from warning symbols and items with which they are not familiar
• Discard all chemicals properly
• Remove children and toys from the area when applying chemicals
• Seal all chemicals when not in use, even if only for a moment
• Wash clothing used when applying chemicals separately
Remember, one moment can change your family's life forever, which is why it's important to constantly be reinforcing these safety precautions with the entire family.