We believe there's something more important than just winning or losing a tournament. We believe that the team, school, and fans who support their athletes with dignity and class are the true champions. That's why we've proudly sponsored the WIAA/Rural Mutual Insurance Sportsmanship Award for more than 50 years.
We would like to congratulate the Hudson Gymnastics Team on being this year's recipient of the Sportsmanship award. Hudson received the Sportsmanship Award in gymnastics for the first time and for the third time overall. The Raiders also earned the honor in girls soccer back in 1996 and then again in boys soccer in 1998.
When interviewing Head Coach, Katie Beaupre, she shared with us what winning the WIAA/Rural Mutual Insurance Sportsmanship Award means to her and the team:
We were very honored to win the sportsmanship award this year. Our athletic director announced the award the night we were presenting to the school board about our season. Two of the team captains summarized the season and I had just finished stating what a nice group of girls we had on the team. Truly just kind, hardworking athletes that were very supportive of each other in the gym, and the gymnasts at other meets. Following, our AD announced we had won the sportsmanship award which spoke louder to the great season this group of girls had and the great people they are.

Gymnastics is a team sport but also an individual sport. The camaraderie between gymnasts from other teams is amazing. High school gymnasts are very supportive of each other and want to see each other get a new trick and be the best they can be. It had been almost 20 years since Hudson had qualified for the state meet. It was an honor to represent Hudson High School and the BRC at the state meet. We worked hard for it all season long and the girls were very humbled to take second at sectionals and participate in the state meet. Three other teams from our conference were also represented at the state meet. It was so fun for our team to get to compete with and cheer for those teams we got to know so well during the regular season. I am very proud of this team and all their accomplishments this season.

This was my second year as a head coach, alongside amazing support from my assistant coach, Leah Hoffman. Being a high school coach is a lot more than just teaching gymnastics skills. I love working with high school athletes helping them grow inside the gym but also building skills they will use once high school is over. The team this year had a good mix of upperclassmen and freshman. It was very fun to see this group grow together and support each other throughout the whole season.
On behalf of Rural Mutual Insurance, congratulations again on a great season and a great achievement for the Hudson community.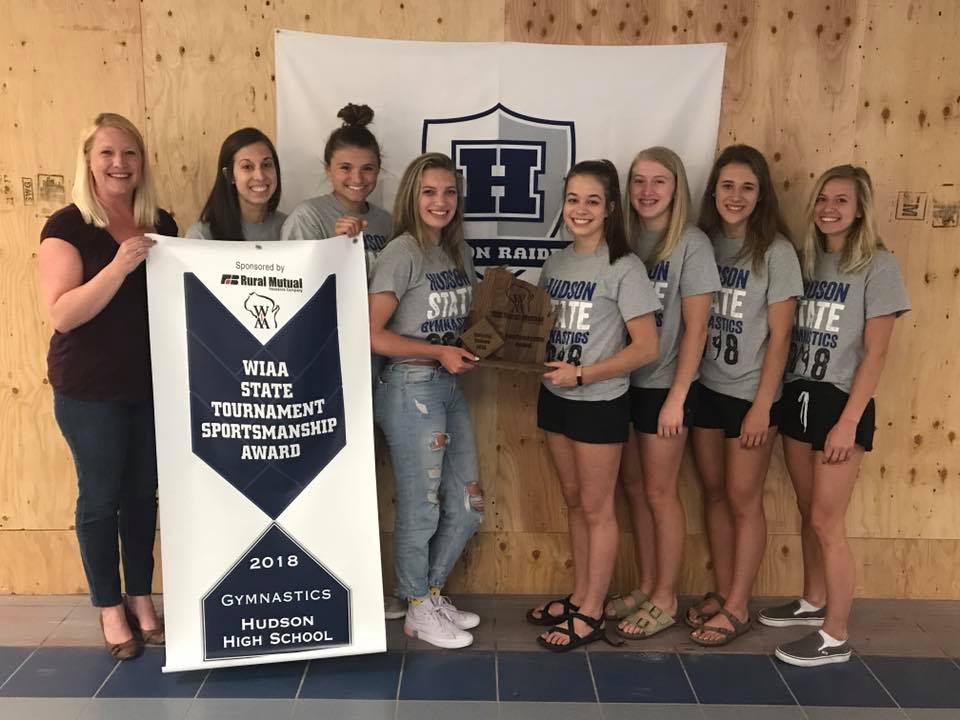 ---
Rural Mutual Insurance has been a sponsor of the WIAA Sportsmanship Award since it was started in 1965. The Sportsmanship Award recognizes the entire community for their conduct and appreciation for good sportsmanship – not just the athletes and coaches – but their fans and community and how they present themselves at state tournament events. Click here to learn how to win the WIAA/Rural Mutual Sportsmanship Award.